Rainbow Brite



Aliases

Wisp

Gender

Female

Species

Humanoid

First Appearance

Powers

Energy Based Constructs
Energy Manipulation
Magical Item detective work
Rainbow es una niña adorable y creativa que usa los colores del arco iris para brindar paz y felicidad a todos. El personaje fue expresado por Bettina Bush.
Background
Edit
Though small in stature, Rainbow's good deeds and the magic she performs with her Color Belt more than make up for her size. Originally she went by the name Wisp, before being granted the title Rainbow Brite. Rainbow Brite wields a magical tool called the Color Belt, which produces a powerful multicolored energy force in the form of a rainbow.

She usually wears a rainbow dress and rubber boots, but sometimes also wears detective clothes and a detective cap.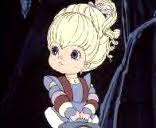 Rainbow brite is carefree and fun-loving, but her work comes first. She might abandon a playful afternoon to save a sun-drenched wheat field from losing all its yellow or to save a rain-starved forest from losing all its green. She colors things by scattering the "Star Sprinkles", which become magical only when sifted through Rainbow's very own fingers. Along with her horse, Starlite, and her helpers, The Color kids, Rainbow Brite brings hope and happiness to all.
She's also a detective like Nancy Drew and Sherlock Holmes. She catches crooks like Murky Dismal and Lurky and she uses her star sprinkles to form a magnifying glass and she searches for clues in rainbow land: footprints, sticks and even a doom buggy and she will crack the case of her stolen colors and after the culprit is caught Rainbow Brite reads lots of mystery books like: The Hardy Boys, Encyclopedia Brown, Sherlock Holmes, Nancy Drew, The Boxcar Children, A to Z Mysteries, Nate the Great, Cam Jansen, and The Berenstain Bears and the Missing Honey.
She has private eye twinkle and her color kids are also detectives and they have a hound horse named Starlite who can pick up the scent and sniff out the crooks. She also has a hound dog named Brownie.
Return to Rainbow Land; 2014 Series
Edit
Having retired as guardian of Rainbow Land, Rainbow Brite is now a normal teenager living with her family in North American suburbia. She still enjoys wearing multi-colored clothing (usually with denim miniskirts), and works as a sketch artist. However, when the Dark Princess takes Rainbow Land by storm (in every sense), Tickled Pink and Moonglow seek out their old friend to help lead a resistance movement. And so does Rainbow Brite rediscover her childhood identity, using her sorcerous abilities to overthrow the Dark Princess...while bringing color back to every corner of the universe.
Rainbow Brite was originally a Hallmark card, or rather a character from such a card.
Rainbow Brite gallery see, Rainbow Brite/Gallery.